Technology increases business efficiency and helps generate beneficial data insights. Your networks store your data and enable you to work efficiently. Since your network is your most essential asset, it deserves the utmost attention and upkeep.
Many businesses assume the only way to manage their network securely is by hiring an in-house team. However, managed IT and tech teams offer expert advice and support so you and your network can focus on what you do best. The business advantages of managed services and the money you save make it a wise option for companies of all sizes.
What Are Managed Services?
Every business needs technology to ensure maximum efficiency. Companies these days increasingly depend on IT and networks and lack the funds required to maintain an in-house team. This often leads to small businesses sacrificing the quantity or quality of network maintenance to save the existing resources.
You can outsource maintenance and repairs to experts through managed services. A top-notch managed services provider (MSP) can help in various ways to ensure the success of your company, including:
 

Communications

 

Data Backup

 

IT Support

 

Network Administration and Security
Using an MSP can reduce the pressure on your internal IT team, freeing them up to efficiently work on the core business and perform daily tasks better.
What Are The Benefits Of Managed Services Vs. Break-Fix Services?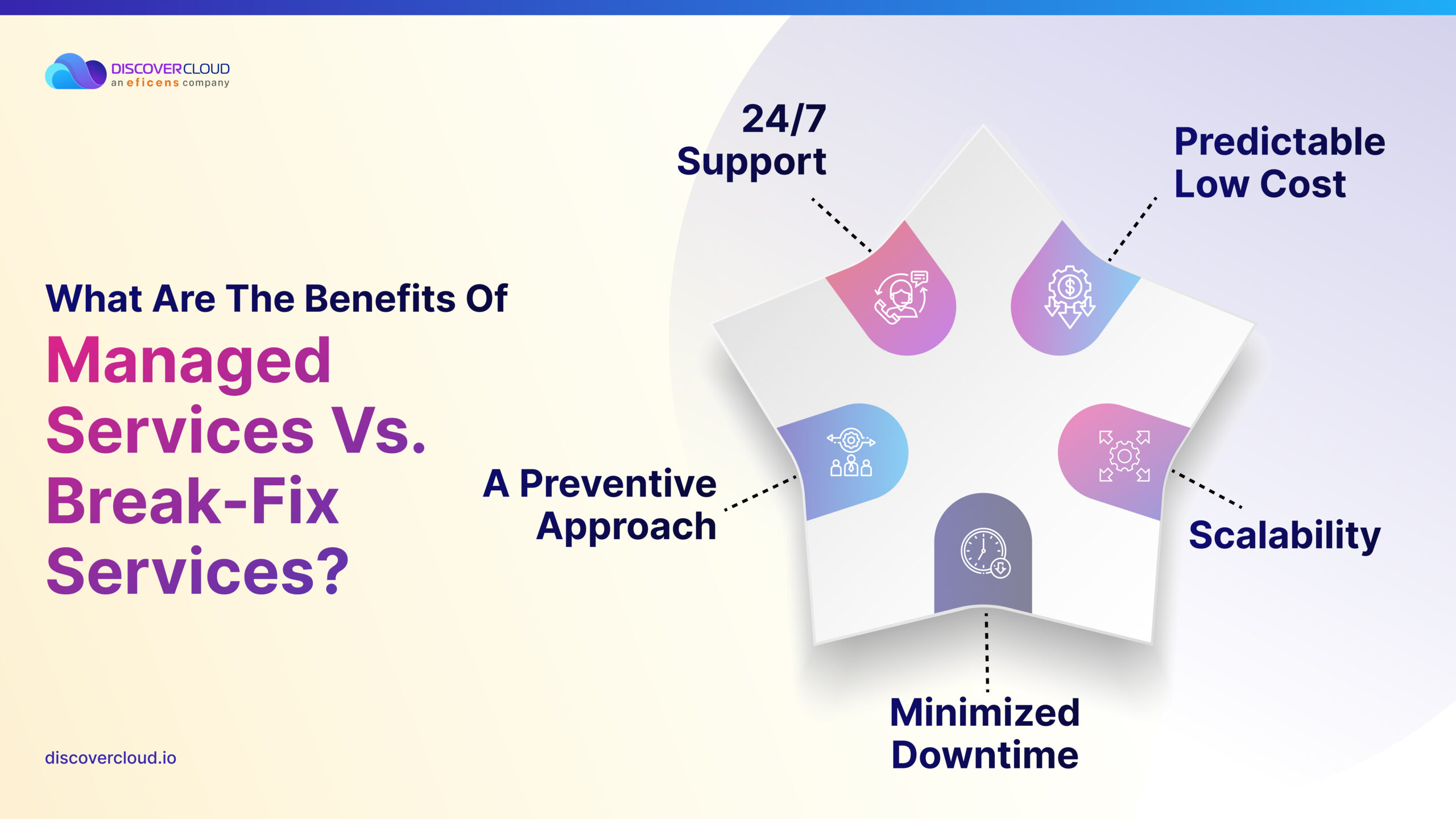 Break-fix services dominated the market for decades. Whenever there was a server problem, businesses called up IT experts to help fix it. If they were lucky, they got a quick solution. If not,  you were stuck paying for expensive repairs and downtime. This kind of service is called a break-fix approach.
Managed services offer constant and continual monitoring of your systems to prevent server issues and failures. The advantages of managed services show that it's the way to go if you want to simplify your IT management affordably.
Remote monitoring means there will always be people to fix your problems instantly and directly. Here are the top 5 benefits of MSPs.
Benefits Of MSPs For SMEs
1.
Predictable Low Cost
Managed services can help you save costs and estimate your IT expenses. With MSPs' help, you pay a fixed amount annually or monthly. Contrarily, an in-house IT team has more regular and unexpected expenses that can take a toll on your budget.
Network maintenance involves equipment repair and replacement. MSPs offer maintenance and repair costs in the contract, so they absorb the fixture costs of thousands of dollars. This model helps you ensure your budget is not subject to extreme fluctuation, improving overall business stability.
SMEs benefit immensely from MSPs as the beginning cost upfront is lower. When a company emerges, the initial hiring and training costs and server and equipment costs can be financially overwhelming.
2.
Scalability
The cost of having an in-house IT team is enormous – that's why most teams are understaffed, overworked, and unable to do everything in a timely and effective manner. There is also often a lack of resources. This will not work every day or when the company is attempting expansion.
Training even one more employee will cost thousands, which is a considerable expense when you're unsure if they'll stay long-term. An MSP saves you training costs and takes away the worry of your IT experts jumping ship. Scaling networks takes significant coordination, workforce, and new systems. These expenses deflect the IT team's focus from important issues like security.
MSPs can help you upgrade or expand systems when you require, without having to recruit and train employees you might not need. They can help your business have flexible resources and accommodate quick changes that an in-house team might not be able to adapt to.
3.
Minimized Downtime
Downtimes typically occur due to equipment issues. Failed servers, malfunctioning systems, and electrical disruptions can impact businesses significantly. Implementing redundant equipment that can switch to a backup in case of failures can solve these issues.
Unintentional human error is responsible for a significant amount of downtime and is unfortunately unavoidable. Implementing robust safety measures in critical systems is the best way to minimize risk potentials.
System attacks can also affect your networks and data. SMEs are particularly susceptible to cyber-attacks. SMEs are the target of about 2/3rd attacks as they're the least likely to protect their data and have security in case of downtimes.
Having minimal downtime is a multi-faceted task that an in-house team might not have the capacity to handle effectively. MSPs can save you downtime costs through preventative measures.
4.
A Preventive Approach
You fix anything that breaks. However, a failed network means lost data and the repairing cost can put the company behind in terms of expenses. Depending on the business size, the price of a security breach can be millions of dollars.
Rather than rushing to fix the problem when it occurs, it pays to take a preventive approach by partnering with an MSP. MSPs monitor your systemic issues and resolve them before they snowball and cause catastrophes. Saved expenses are the most popular reason to choose MSPs.
5.
24/7 Support
Managed IT services use remote monitoring technology to check your systems day and night. Without constant monitoring, network issues can occur during off-hours. If a system is affected in the middle of the night, it'll take time before anyone finds out. In some cases, they don't find out until the day after – post any significant damage.
Getting real-time alerts means that problem-solving can occur before they have a significant business impact. Remote monitoring allows MSPs to correct any issues instantly or as and when they arise.
Choosing The Right Managed Services Provider
Outsourcing only works if you choose the right partner. When deciding on an MSP for your company, consider these factors:
 

Commitment To Progress:

There's no point using managed services if they won't focus on the company's growth. Look for a company with an innovative approach, willing to tackle new challenges and technology.
 

Defined Service Level Agreements:

Businesses and MSPs come in all shapes and sizes. You need an MSP with flexible options to ensure compliance and timely response times to reach your goals effectively. Having a clearly defined agreement from the start will set expectations for both parties.
 

Relevant Industry Experience:

You might find a great MSP with years of varied experience, but there's no point if they're not experienced in your industry. Ensuring compliance with regulatory requirements takes experience, and having a successful track record is a sign that they might be helpful to your business.
 

Excellent Customer Service:

The right MSP provider will have a dedicated customer service team ready to answer any query you might have, exceeding expectations every time. These people will be your point of contact, so having an honest and friendly team can be a defining feature.